Here in the Emerson Stage office, we got a special delivery this morning — an issue of the Middletown Gazette. As you might know, the Middletown Gazette is the daily periodical from Middletown, a small town originally founded between two other towns, both of which have long since faded away. You'll have your opportunity to learn more about Middletown this week, when Will Eno's play about the people and events of the area comes to the Jackie Liebergott Black Box– Thursday through Sunday. Tickets are available at any Emerson College Box Office.
At any rate, we wanted to share today's headlines with you; the complete article is reprinted in this blog post.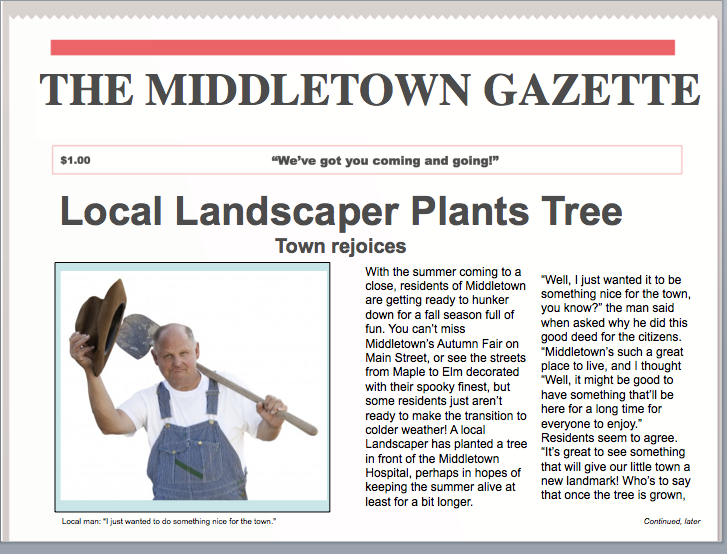 Local Landscaper Plants Tree, Town Rejoices!
With the summer coming to a close, residents of Middletown are getting ready to hunker down for a fall season full of fun. You can't miss Middletown's Autumn Fair on Main Street, or see the streets from Maple to Elm decorated with their spooky finest, but some residents just aren't ready to make the transition to colder weather! A local Landscaper has planted a tree in front of the Middletown Hospital, perhaps in hopes to keep the summer alive at least for a bit longer.
"Well, I just wanted it to be something nice for the town, you know?" the man said when asked why he did this good deed for the citizens. "Middletown's such a great place to live, and I thought "Well, it might be good to have something that'll be here for a long time for everyone to enjoy."
Residents seem to agree. "It's great to see something that will give our little town a new landmark! Who's to say that once the tree is grown, it won't be added to Middletown's map right next to our Monument!" a Middletown Tour Guide quipped as she paused her small, albeit lively group for a look at the tree sprout.
"What a remarkable thing! We've seen the trees of the Redwood Forest and the Amazon Rainforest, but never one in a town like this! This is most certainly a highlight of our trip!" the Male Tourist remarked, snapping a picture with his camera.
"I can't wait to tell everyone all about it when we get home!" his companion, a Female Tourist said, smiling as she ran to pose next to the fledgling landmark.
"It's neat, I guess. But.. why?" a local Mechanic mused, staring contemplatively at the tree. However, before we could ask him any more questions, he was approached by a Cop, who said that this Mechanic was "indisposed at the time and could not be reached for further comment."
Though the tree hasn't fully grown yet in the Middletown Hospital's sprawling lawn, the Landscaper has high hopes for its future in its new home. "I think once it's done growing, we'll have something really special here in Middletown. Trees are forever… you know, unless some folks come along and cut them down."
We look forward to sharing more stories from Middletown as the week continues! And don't forget to book your tickets to Will Eno's Middletown, playing Thursday through Sunday in the Jackie Liebergott Black Box Theater. Tickets available online or in person at the Paramount or Cutler Majestic Box Offices.