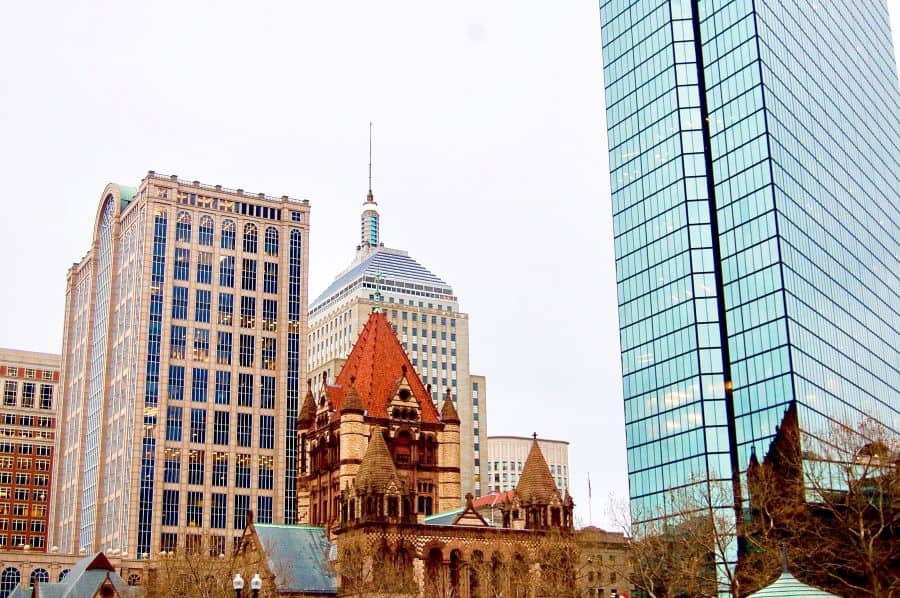 If you've decided to come to Emerson for grad school, you're likely starting to look for apartments in Boston. In today's post, we're continuing our Where to Live in Boston blog series and featuring Back Bay.
Housing and Transportation
Known for its beautiful brownstones, Back Bay is one of the quaintest areas to live in Boston. Located next to downtown, the average rent for a two-bedroom apartment is about $5,000. While the housing is pricier than other Boston neighborhoods, the beautiful architecture and atmosphere of Back Bay makes the prices worth it.
In addition to the historic scenery, Back Bay is well-connected to Boston's public transportation, the MBTA. Home to the Arlington, Copley, Back Bay, and Prudential stops, Back Bay offers bus connections, access to the Green and Orange subway lines, and connections to the Commuter Rail. Plus, Back Bay is just a 15-minute walk to Emerson's campus!
Shopping in Back Bay
Another highlight of Back Bay is Copley Square. Here you'll find the Boston Public Library, the historic Trinity Church, and Boston's biggest farmers market.
From Copley Square it's just a short walk to Newbury Street and Commonwealth Avenue, both famous for their retail offerings. On Newbury Street, you'll find upscale clothing outlets, local boutique shops, the Guild of Boston Artists, and more.
If that's not enough shopping for you, make your way to 100 Huntington Avenue to Copley Place. Easily one of Boston's best known shopping destinations, Copley Place is home to 75 stores, restaurants, office buildings, and convenient parking.
Pubs, Bars, and Food
Shopping isn't the only thing Back Bay has to offer. Whether you're looking for a chic dinner, a divey pub with friends, or some ramen to fuel your studying, this neighborhood has plenty of food options.
For some delicious seafood, be sure to check out the Atlantic Fish Company on Boylston Street. Known for their large portions of locally sourced New England seafood, this restaurant welcomes a hearty appetite.
Looking to unwind with a beer and some friends? Stop by Bukowski's Tavern, where you'll find delicious burgers, loaded tater tots, and locally brewed beers. If you become a regular, you might even sign up for Bukowski's famous Mug Club. As a Mug Club member, you'll get a mug inscribed with your favorite deceased author's name if you can drink all of the required beers.
Another local favorite is Santouka, where all the ramen soups are made from scratch. Open until 9:30 pm on weekends and 9:00 pm on weekdays, Santouka is known for its large portions and reasonable prices. Stop in for a study break or to warm up on a chilly Boston day.
Overall, between the beautiful architecture, public transportation, and ample shopping options, Back Bay is the place to be. If you're looking for more neighborhoods to live in Boston, check out our blog series or take our online quiz to find the best neighborhood for you. For more information about off-campus housing, please contact Off-Campus Student Services. We hope to see you in Boston soon!