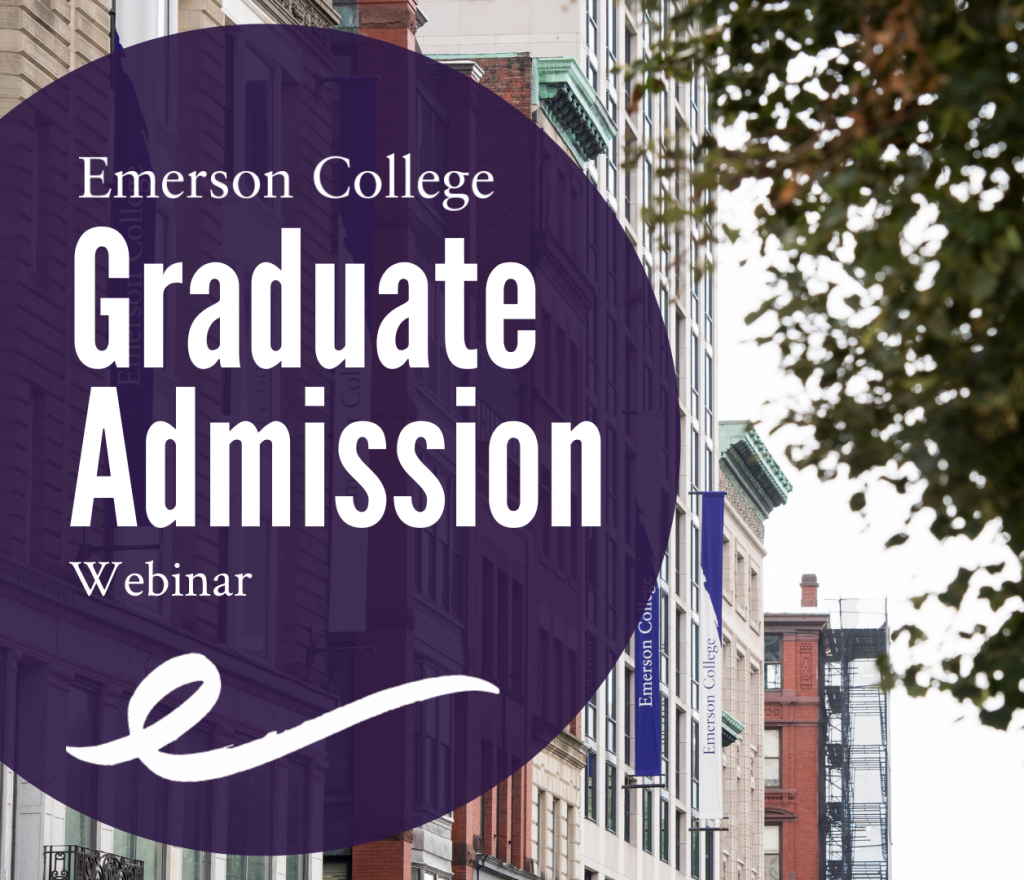 With every new year comes new opportunities, and for those considering graduate programs, a new application season! To help answer questions and make the process easier, our graduate admissions team is hosting several virtual information sessions. Each session is a great chance to connect with our admissions counselors and faculty from each specific program.
Graduate Admission Overview Webinar
January 11, 2023, 11:00 a.m. EST
First up is our virtual Graduate Admission Overview, hosted by our wonderful admissions counselors. This session will be helpful for those who are looking for general information about how and when to apply to our graduate programs. Many of Emerson's graduate programs are customizable and flexible, so come prepared with questions about how you can tailor the curriculum requirements to your needs!
This webinar is a great way to ask questions or just to tune in and see what the Emerson community is like in action.
Graduate Creative Writing Webinar
At the Creative Writing Webinar, our admissions team will overview the application process for Emerson's Creative Writing MFA program. You'll also get to hear from program faculty about the value of the Creative Writing MFA.
As a current Creative Writing MFA candidate myself, I highly recommend attending this information session. While it's certainly helpful for clearing up some of the more nuanced elements of your application, it's also one of the only opportunities you might have to interact with the faculty before you commit to attending. The admissions process isn't all about whether or not the college likes you – you want to like them, too! Think of these webinars as a way to feel out the program and evaluate whether it's a good fit.
Graduate Theatre Education and Applied Theatre MA/MFA Webinar
Join to hear admissions staff and program faculty explain Emerson's Theatre Education and Applied Theatre program. Incredibly flexible, the program allows you to choose between a Theatre Educator track or a Theatre and Community track. This session will talk about the application process, program requirements, and more, so come ready to ask questions!
Graduate Business of Creative Enterprises Webinar
Emerson's Business of Creative Enterprises online graduate program is a first-of-its-kind business degree for creatives. These webinars will provide information about Emerson's newest graduate program, and our admissions team will answer any questions you have about the application process. If you are looking to make a business out of your creative passion, Emerson's Business of Creative Enterprises graduate program might just be for you.
Graduate Writing for Film and Television Webinar
Have you always wanted to be a screenwriter? Do you like the sound of studying film in Los Angeles? Join this webinar to learn how Emerson's Writing for Film and Television MFA helps you break into the lucrative screenwriting field. You'll hear from admissions staff and program faculty about the ins and outs of this program and get a chance to ask questions.
How to Create Your Multimedia Masterpiece
This webinar is an exciting opportunity to interact with Emerson's Journalism faculty and get a feel for the program. At this event, you'll learn how to create a multimedia project, develop a target audience, and more! Admission counselors will also be available for questions about applying to Emerson's Journalism MA program. We hope to see you there!
SMC Program Director Pop-Up Chat
February 15, 2023, 6:30 p.m. EST
Perfect for busy people, this 15 minute pop-up session will cover the 5 most-asked questions about Emerson's Strategic Marketing Communication (SMC) program. During the session you'll get to meet the SMC Graduate Program Director, Brenna McCormick, and SMC's admissions counselor, Colleen O'Brien. Be sure to join!