By Eco Ambassador Ava Tribe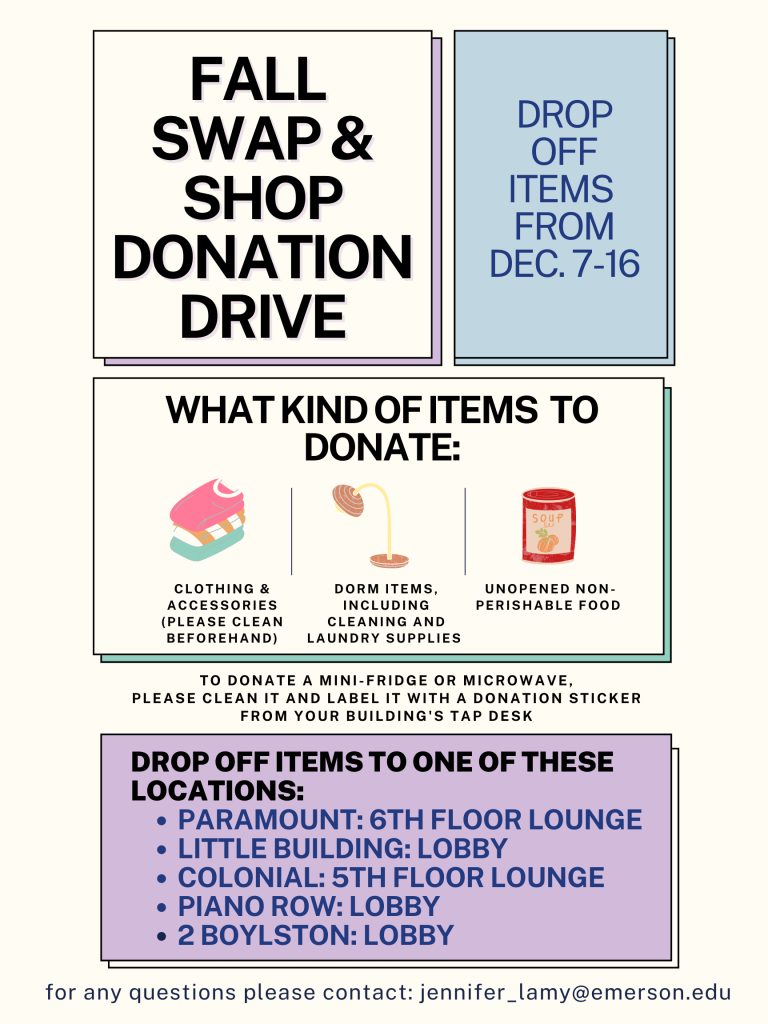 Have any items you want to donate before winter break? Campus Services is organizing a fall semester donation drive for students to donate the following items:
Clothing and accessories (please clean beforehand)
Dorm items, including cleaning and laundry supplies
Unopened non-perishable food
Donation bins will be out from December 7th to the 16th in the locations listed below.
Upon returning to campus, students will have the opportunity to shop for the donated items in the SPC Black Box in the Little Building on Wednesday, January 18th. The "shop" will take place from 5-8 pm. Students will be able to pick up any items they would like for free. All leftover items will be donated.
Donation bin locations:
Paramount: 6th floor lounge
Little Building: Lobby
Colonial: 5th floor lounge
Piano Row: Lobby
2 Boylston: Lobby
Additionally, if you'd like to donate a mini-fridge and microwave, you will be able to do so. You must clean the item, obtain a donation label from your building's tap desk, fill out the label, and affix it to your item. Facilities will take it from the space during winter break.
For any questions about what items you can donate or if you see a donation bin overflowing, please email sustainability@emerson.edu.