One of the most stressful decisions when applying to graduate school is deciding where to live in Boston. If you've applied to one of our many graduate programs, or have already been accepted (congrats!) then you're likely scouring Zillow or Trulia looking for available apartments. You might have plunged into the depths of Craigslist to find a place to settle in as you begin this new stage of life as a graduate student.
We're starting a short-run series of the best neighborhoods to live in as a graduate student in Boston. We'll be taking you through the neighborhood's make-up and some of its stand-out stores, locales, sights, and monuments. You'll gain a feel for what we consider the best places to hang out, shop for groceries, grab a drink, or just take a walk. Maybe you'll fall in love with a particular neighborhood! If you're wondering where to live in Boston, let us introduce you to Allston.
Allston Fun Facts
For decades, Allston has been a hub for graduate and undergraduate students alike, and with good reason! Most of the neighborhood is located within three of the four Green Lines of the Boston Subway (affectionately called the T), and only a 20-30 minute ride away from both Boston and Cambridge's downtowns. Historically, it's been more affordable than neighborhoods closer to Boston's city center, and is currently home to around 28,821 residents, about half of which are students.
Allston is named after American painter Washington Allston, which is fitting given the neighborhood's long history of burgeoning artistic scenes. It's a fairly diverse and open-minded neighborhood as well, hosting Korean, Chinese, Thai, Indian, Brazilian, Russian, Vietnamese and Colombian immigrant communities, plus significant LGBTQ+ presence. Additionally, it's a relatively young neighborhood, with the median age being around 29 years old.
Allston merges with another great neighborhood, Brighton (which is also worth checking out if you're wondering where to live in Boston!). In fact, Allston was founded around 1826 after the construction of a railway that separated it from Brighton. Where exactly one ends and the other begins is hotly debated to this very day, but that's a topic for another time. For our purposes, we've limited our tour of Allston to its main three T stops: Packard's Corner, Harvard Avenue, and the eponymous Allston Street.
Packards Corner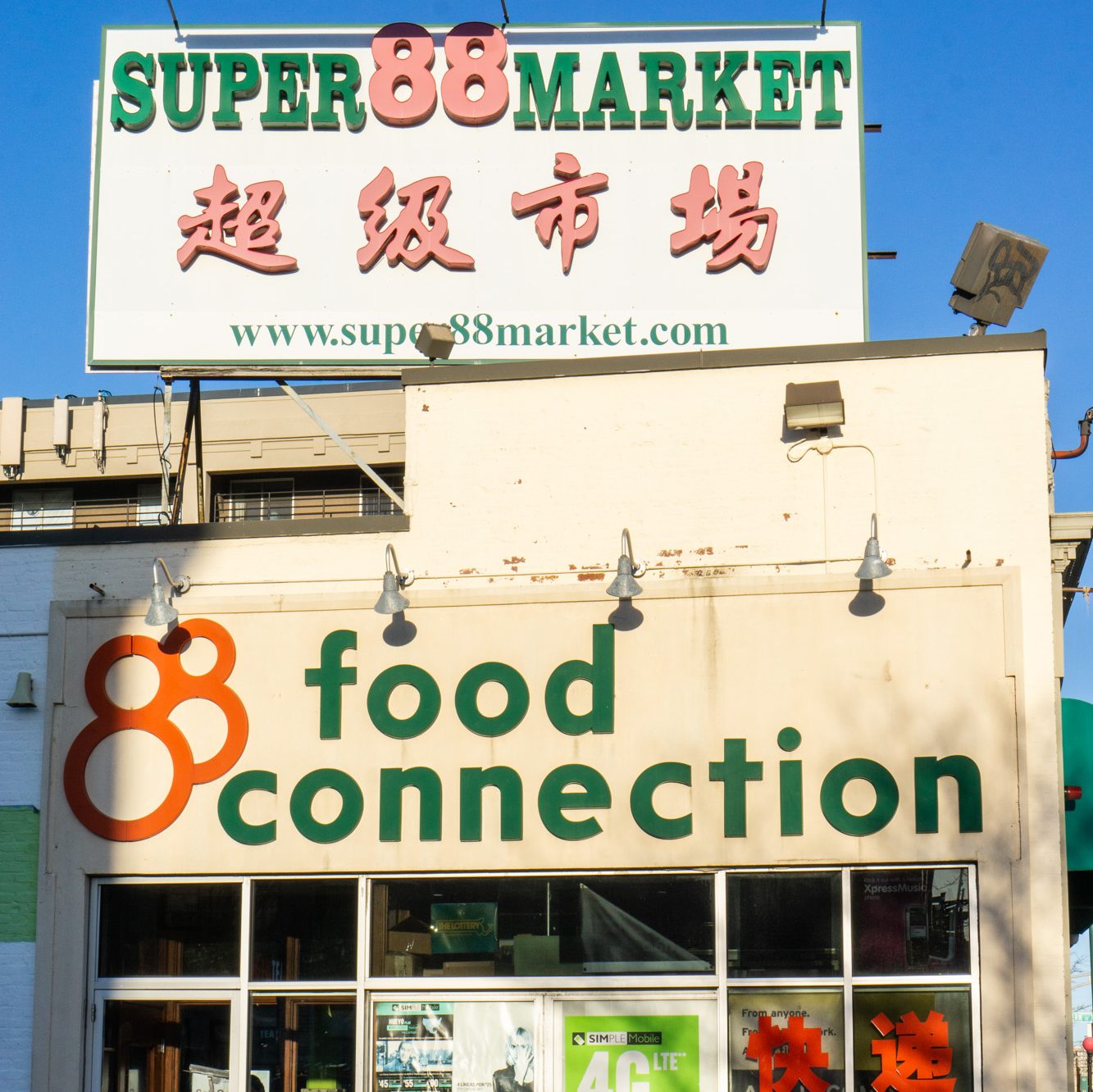 Super 88 (which is technically rebranded as Hong Kong Supermarket, yet retains the iconic Super 88 on its facade) is a cross between an Asian supermarket and a food court, with several small vendors, and a few restaurants, serving everything from Japanese to Chinese to Indian food. It's delicious, it's cheap, it's chaotic; an experience indeed! Not to mention the actual supermarket, in which you can purchase everything you need for all your Asian cuisine adventures. And other non-Asian adventures too.
Greetings From Allston Village Mural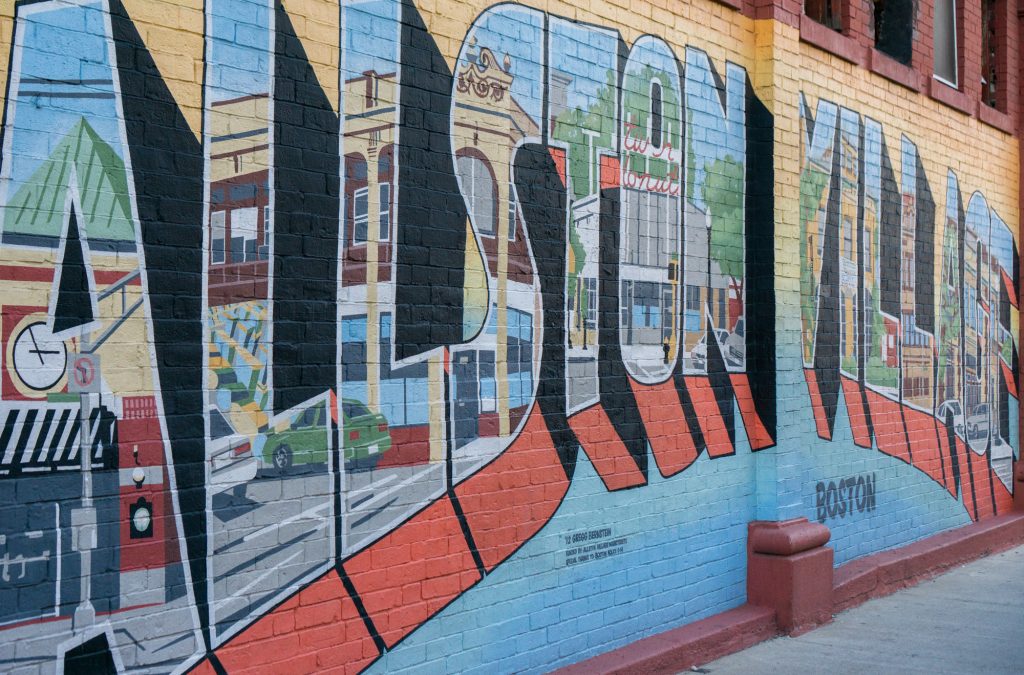 Located just on the side of Kaju Tofu House, a Korean restaurant, this mural was made by artist Gregg Bernstein in 2015, and serves a welcoming sign for those walking in from Harvard Avenue. It pays homage to Allston itself, capturing the architecture and color of the neighborhood. Inside its letters, styled as a postcard, Bernstein painted the Twin Donuts shop, itself a staple around these parts. It's just one of the many, many public art displays in Allston, with the second best-known being across the street from the legendary music venue O'Brien's Pub, and close to the equally legendary Regina's Pizzeria.
HARVARD AVENUE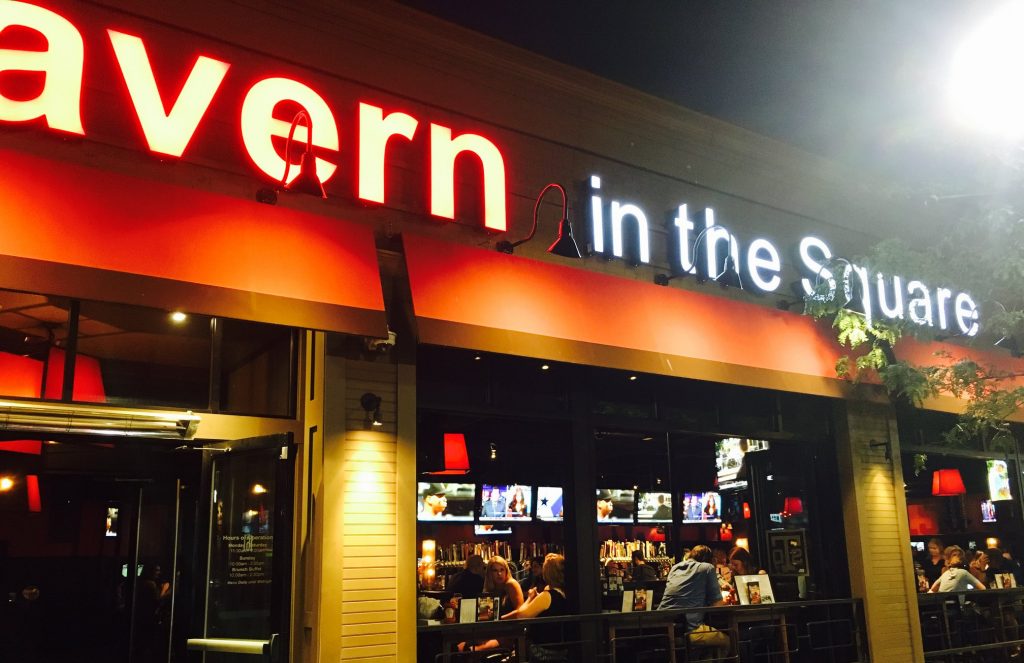 Considered by many the official bar of Boston University, it's a spacious establishment, with one street-level bar and restaurant with adjacent dancefloor and a lower, basement-style section, with a second dancefloor. It serves American food ranging from pasta, salads, fried chicken, and other bar staples. The Tavern is a trendy yet communal place, being a hotspot and jump-off for Harvard Ave's nightlife. The crowd features everything from the BU economics and business students all the way to the hipsters and art school crowds.
Hopewell Bar & Kitchen features a full menu, pool table, darts, and even a small section in the back with arcade machines. It's not just a fun waterhole though: Hopewell opens at 11:30AM and offers brunch, lunch and dinner menus that bump it from bar to a full-blown restaurant. It's a slightly more "mature" place, with most of the patrons being graduates and young working professionals rather than college students.
Originally founded in the North End neighborhood Regina's Pizza is a famous, local, straight-to-the-point pizza joint, offering all the staples you'd expect, from vegetarian to classic pepperoni. Its location attracts a diverse crowd. On a normal night, you'll see patrons from all walks of life stopping by for a slice.
ALLSTON STREET
Cheema Supermarket
Cheema Supermarket is a small grocery store that stocks mostly Pakistani and Indian foods, spices, and meats. It's especially popular for this last item, as it sells fresh beef, chicken, and even goat. It's one of those places you can smell as you're walking in: the spices that stock the isles just wafting over and coating the racks they sit on. The service is quick, friendly, and efficient, too. If you're ever looking for an Indian twist on your rice, oil, spices, yogurt, bread, snacks, or sweets, Cheema's your place.
Named after the classic film, this quaint diner serves all-American burgers, sandwiches, and yes, even breakfast. It's located on Western Avenue, off of Cambridge Avenue and is truly, and very literally, a breakfast spot. After all, they open at 6AM and close at 2PM, so you know they're serious about their branding.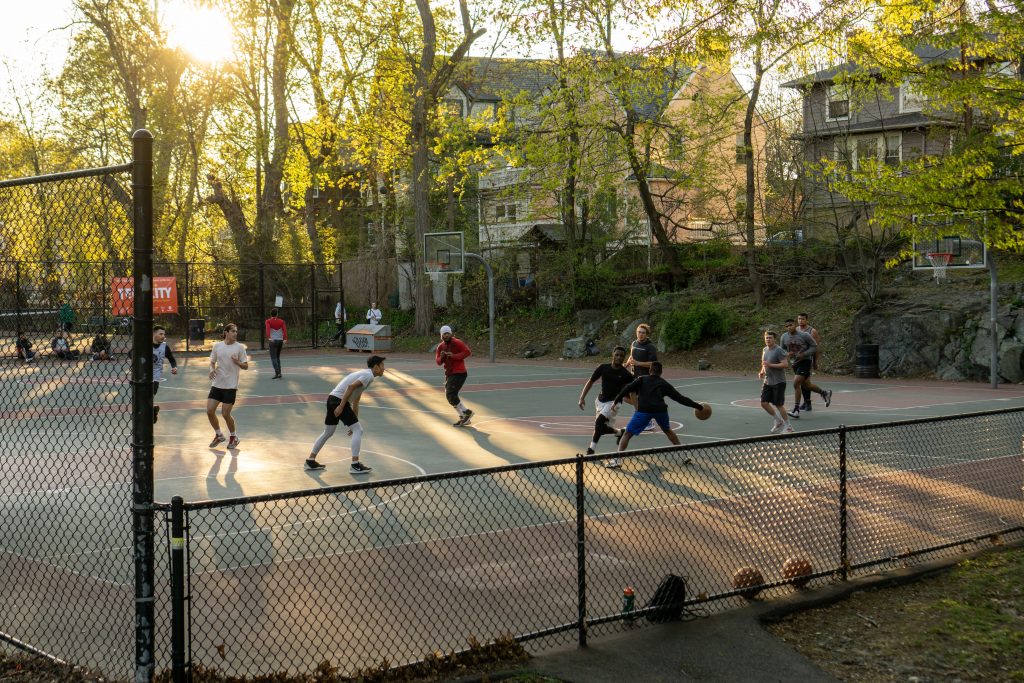 Envisioned as a truly communal recreational area, Ringer Park offers something for everyone. It features wide green spaces, a playground for children, a baseball field, and tennis and basketball courts. It even has art installations. Measuring around 12.38 acres, or 540,000 feet, its landscape consists of flat fields, small valleys, and hills, making it a perfect spot for walking, playing sports, or just lounging and picnicking on a sunny afternoon.
Honorable Mentions:
Other Neighborhoods for Grad Students
Still wondering where to live in Boston? Check out our quiz to find out the best neighborhood for you! If you're looking for further information on moving to Boston, Emerson's Off-Campus Student Services has you covered.