We've compiled a short list of activities to take advantage of the oncoming, fully vaxxed Boston summer. Get your shot, get your Dunkin's, and let's hit the city! 
Go see a Red Sox Game
We can't think of a better way to kick-off summer than taking part in one of the city's favorite traditions – baseball.
Fenway Park has been cautious with its health standards, only allowing up to 25% occupancy throughout the last few months. However, starting this weekend, it will re-open at full capacity, along with other large venues like Gillette Stadium and TD Garden. In fact, you are free to enter the Green Monster maskless if you're fully vaccinated. So hurry and get your tickets!
The Sox will be playing the Houston Astros on June 8th and 9th at Fenway.
Historic Walk Through The City
This one's kinda touristy, but hey, we're all about celebrating the best the city has to offer, and Boston, aside from baseball and pilgrims, is known for its extensive historical monuments as one of the oldest cities in the United States.
PhotoWalks, a tour company, offers a "Highlights of Boston" tour that will take you through the most significant spots in the city's history for $50 a person. The tour emphasizes and encourages tourists to take pictures as it leads you through some of the most picturesque locales, such as Beacon Hill, the Boston Public Garden, and Back Bay.
You can even check out the Freedom Trail and the North End, Boston's Little Italy neighborhood, during a separate tour offered by the same company.
Pub Crawls/Brewery Tours
Okay, so you've been to a game, you took a long scenic walk, the day is winding down, and now you're thirsty. We'd be too! Luckily, Boston has a healthy supply of local bars, dives, beer halls and breweries. Of course, the past year and a half has changed a few things: for instance, a temporary state law was passed requiring businesses to serve food with any alcoholic beverages. In fact, Emerson's unofficially-official watering hole, The Tam, added a single item to their menu: a turkey sandwich.
Boston Magazine's Pub Crawl List is a great place to start your pub crawl, even if it is from 2015, since all the businesses have survived and thrived in the past year. Harpoon's beer hall, located in the Seaport, with delicious pretzels and new, unreleased beers to try is always a good time, and they even give you tours through the brewery. The brand new Jack's Abby's Beer Garden is a great choice too, and Boston Mag has a very comprehensive list of other beer gardens for you to check out.
Lawn on D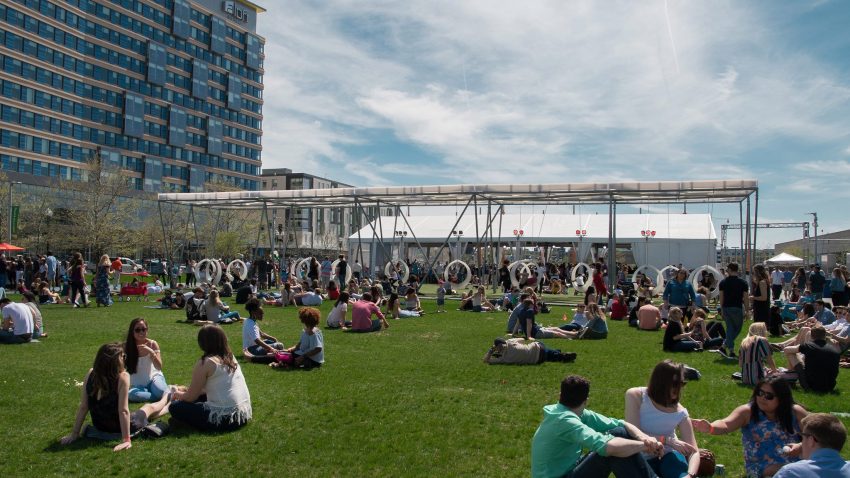 An absolute Summer classic around these parts. The Lawn on D, with it's signature swings, is an event space in the Waterfront District that alternates as a stage for local bands, shows, and generally, just a nice space for relaxation and entertainment for pretty much every age group. The Lawn is known for its free games, which include bocce, cornhole, ping-pong, and giant versions of chess, checkers, Connect 4, and Jenga. Although it obviously took a tumble, like we all did, the Lawn still stands as one of the best seasonal places to be in Boston.
Museum of Fine Arts
Another mainstay that never loses its magic, the Museum of Fine Arts will finally allow visitors into its deep halls once more to let them soak in hundreds of years of history, archeology and art. Not to mention the seasonal exhibitions, which currently host both Monét and an extended schedule for Basquiat, which has been one of the museum's most popular exhibitions in recent years. It's perfect for a calm afternoon or evening appreciating the most comprehensive art collection in Massachusetts. Also, Emerson students get free admission year-around!
We hope this short list helps you get revved up for the summertime! Be safe, have fun, wear sunscreen, and let us know how it all goes!