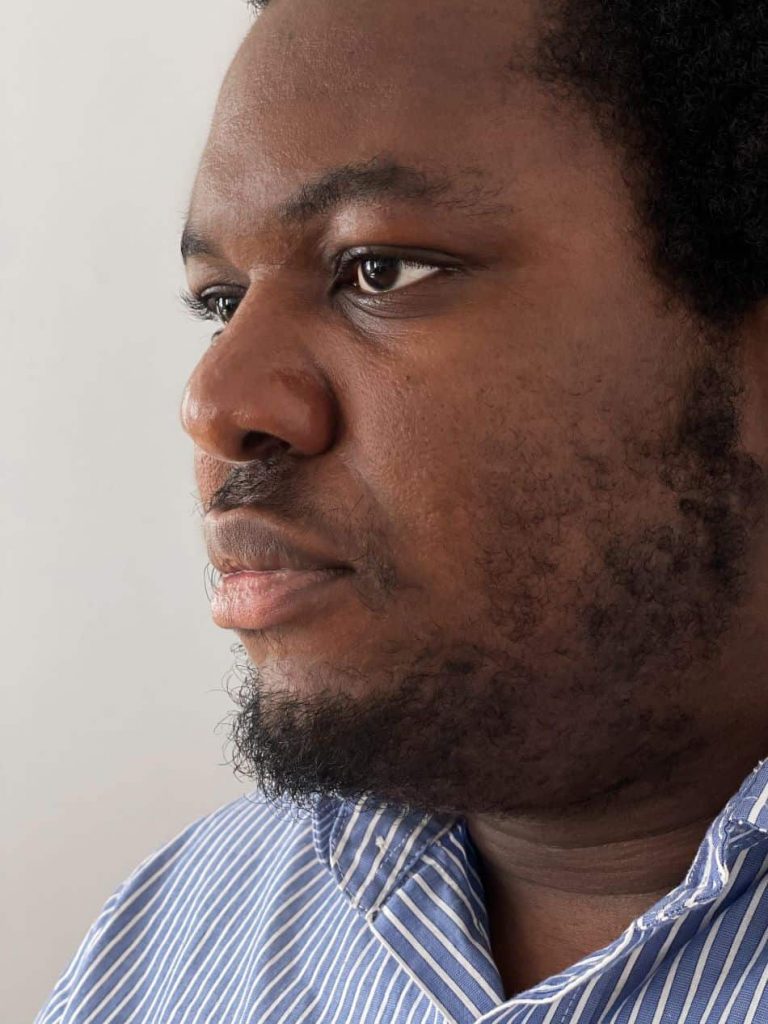 Tochukwu Okafor, current Creative Writing MFA candidate. Photo by Beowulf Sheehan
Thinking about going to graduate school for creative writing? Wondering if a Creative Writing MFA is worth the investment? Today we're featuring Tochukwu Okafor, a current student in Emerson College's Creative Writing MFA. We'll hear about his writing journey, why he chose to pursue an MFA, and his suggestions for prospective students.
What led you to pursue an MFA?
"I have always written. I applied for an MFA out of curiosity," Tochukwu says.
Trained as an electrical engineer, Tochukwu never had creative writing as a main career focus. He recalls being devoted to reading growing up, as well as writing letters and stories. Not until college, however, did he begin submitting his work to literary prizes and journals. "I was bored with my engineering classes and needed more," he says. "So I would go to the library, finish my coursework, then read and write until the library closed."
In college, he found community in his school's creative writing association, where undergraduates met in lecture theaters to write and workshop each other's stories and poems. During one of the association's annual writing awards seasons, Tochukwu remembers being shocked to find himself a winner in both the fiction and playwriting categories. This early success encouraged Tochukwu and motivated him to continue sharing his work with others.
After gaining a master's degree in engineering, working for a few years, and having some of his fiction published, Tochukwu decided to go back to school. He applied to electrical engineering PhD programs as well as creative writing MFAs. Tochukwu was accepted into several engineering and creative writing programs and ultimately decided to accept Emerson College's Creative Writing MFA offer. He explains, "I chose to do something different I'm also very passionate about. And I wanted to have fun doing so."
Why Emerson?
"I first applied to Emerson College because of the school's prestige." Another major reason Tochukwu decided to enroll in Emerson's MFA was the program's flexible schedule. He wanted to retain his full-time electrical engineering position while pursuing his degree, and Emerson's evening MFA classes allowed him this option.
Tochukwu received a full fellowship for the program, which was another reason he chose Emerson. Emerson College automatically considers graduate applicants for fellowships and scholarships and offers scholarships to about 80% of graduate students, making it attainable for Tochukwu to finance his MFA journey.
How would you describe the Emerson experience?
"It's been a joy to be in classes with other people who want to write professionally, and the professors are just wonderful," Tochukwu says.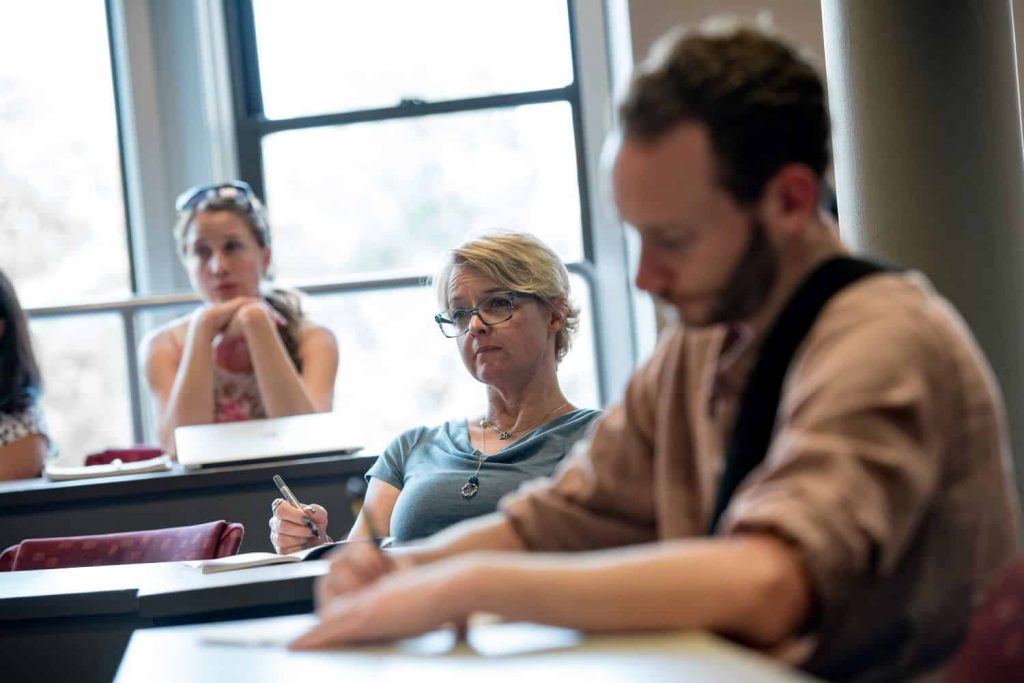 He describes the program's professors as dedicated, experienced, and generous with their time. Since starting the MFA, Tochukwu has developed positive relationships with faculty and believes they have supported his growth as a writer.
In addition to the people he has met in the program, Tochukwu has enjoyed the MFA curriculum. He particularly likes the program's literature courses, adding, "They give structure to the way I approach my reading; I appreciate the chance for organized learning." These literature courses have inspired some of Tochukwu's recent writing. For example, he shares that his Latin American Literature course influenced his new critical essay that was accepted and published in the 2023 print issue of the Latino Book Review.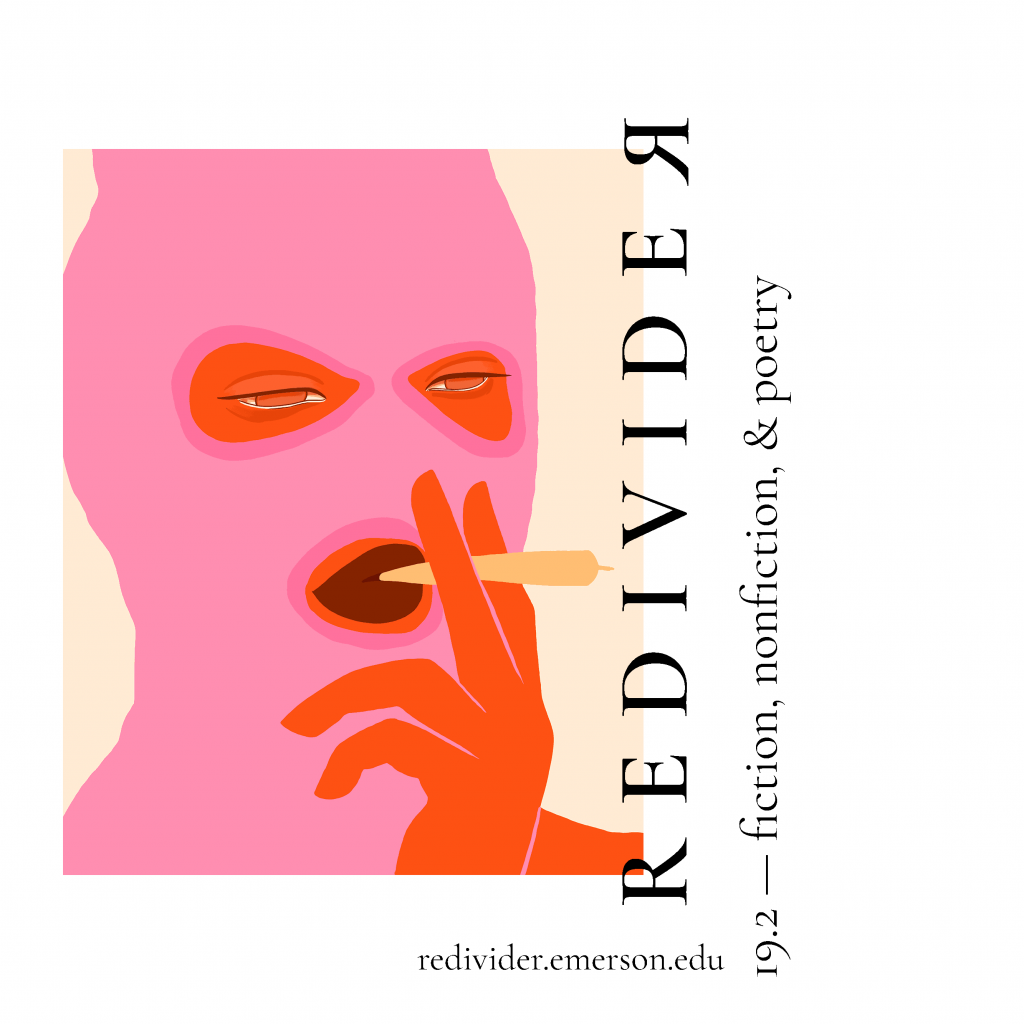 Redivider's Fall 2022 issue. Cover art by Vera Primavera
Does Emerson have opportunities outside of the classroom?
Emerson has a number of literary journals with which graduate students can gather work experience. Tochukwu currently reads for Ploughshares, Emerson's award-winning quarterly literary journal. Graduate students can work for the magazine, as Tochukwu does, and gain insight into the literary field.
Tochukwu also works as a copy editor for Redivider, another of Emerson's publications. Redivider is run by Emerson graduate students and publishes an online magazine three times per year.
Through these magazines, graduate students at Emerson can achieve skills in editing and publishing in addition to refining their craft in MFA workshops.
What do you hope for your writing?
"Before I started the MFA at Emerson, I intended to produce four manuscripts in the program, whether rough or polished: two short story collections and two novels. I think I'm on track to meet the goal." Presently about halfway through the program, Tochukwu has completed one short story collection and one novel. He hopes to send them to his literary agent in a few months.
In addition to finishing these manuscripts, Tochukwu has won an extensive list of awards and fellowships for his writing. He has been named a 2023 Fiction Fellow at Kimbilio, an organization dedicated to supporting and connecting writers from the African diaspora. Additionally, he was awarded a major grant in January 2023 by the Elizabeth George Foundation and is a 2023 recipient of the fully funded Iceland Writers Retreat Alumni Award.
While he has won many awards for his literary work, Tochukwu says, "I don't define success by what I've won. My biggest prize is the writing itself, and it's always exciting to learn that someone has engaged with my work and thinks it deserves recognition."
What advice would you give people considering a creative writing MFA?
"Discover, or attempt to find, what your writing is and represents before pursuing an MFA. Sometimes, it's fine permitting the MFA to help you realize your voice." He adds that it is important to listen to your inner self while in the Creative Writing MFA, making time to be by yourself with your work after others have offered their opinions.
"Remember that art is not a competition. It's about bringing yourself to the page and trusting yourself. Every person is unique, writer or not, and you need to be kind and positive enough to trust what makes you different. What you bring to the table is valid. Maybe not all of it needs to be out there, but at least you would have confided enough in yourself to have created it."
Tochukwu is excited to continue writing and sharing his work, hoping to someday publish his novel and short story collection. To find out more about his work, be sure to follow him on Instagram.
For more information about Emerson College's Creative Writing MFA, be sure to schedule a call with an admissions counselor. Or, to get a sense of what it's like to be in the program, check out our blog about a day in the life of a creative writing graduate student.