Since its founding in 2005, Undergraduate Students for Publishing has grown into a multi-faceted organization. The club as a whole is often affectionately called "Pub Club," and is run by an executive board which oversees general meetings, the book projects, the website, and the literary magazine. All club events, workshops, and the book launch are open to the entire Emerson College community.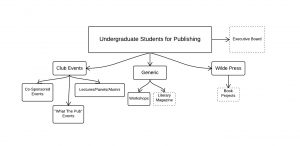 Executive Board
Members apply for positions and once selected, have the opportunity to gain experience and move up un the organization if they choose.  While there are specific positions, this board oversees everything and often takes on extra tasks, committing several hours per week to running this club. The Co-Presidents are the two positions with the most responsibilities.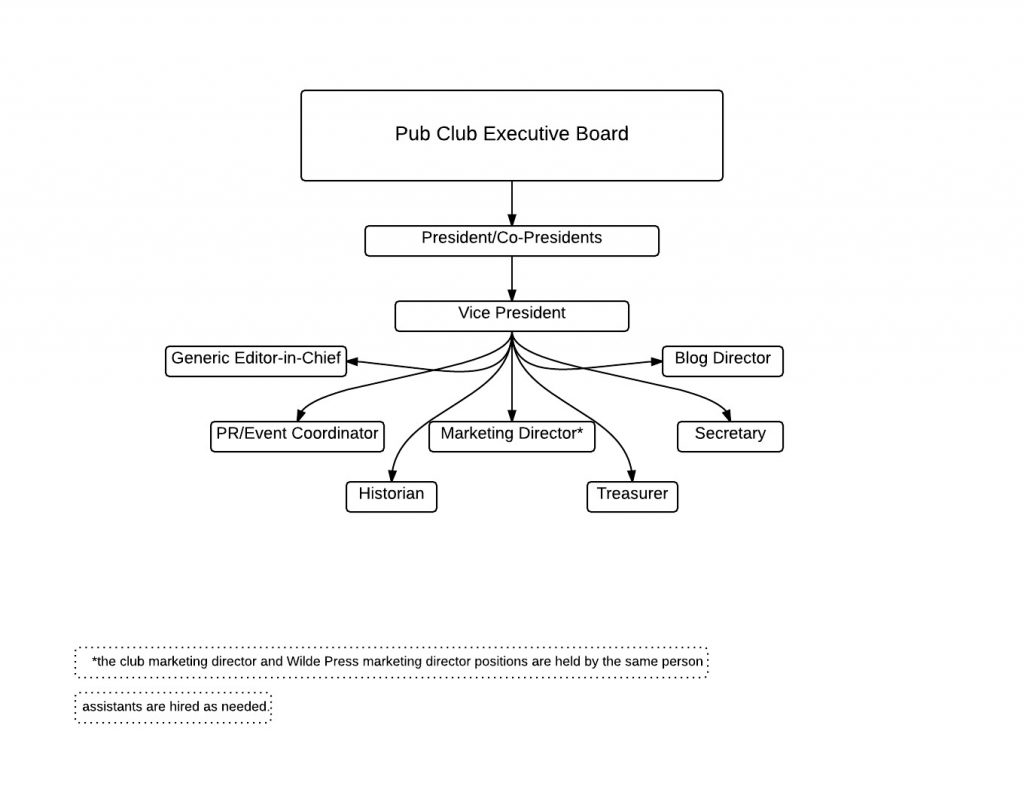 Wilde Press Staff
In 2009, Wilde Press was created to oversee a new aspect of the club, the book project. Soon, this was increased to two book projects a semester. This section of the club strives to mimic a publishing house on a smaller scale. Publisher positions are held by senior members of staff, usually the club's co-presidents. Heads and assistant positions are applied for, but teams are open to anyone at Emerson College.
Positions
Editorial Director > Head Editors > Assistant Editors > Substantive Editorial Staff
Production Director > Head Copyeditors > Assistant Copyeditors > Copyediting Staff
Marketing Director* > Assistant Marketing Director > Marketing Staff
Design Director > Design Manager > Design Assistant > Design Staff
Generic Staff
Since Spring 2012, Generic has been an outlet for those who write genre fiction. Originally run, edited, and published by the executive board, Generic received its own staff in Fall 2014. Applications are required for all positions, and staff must reapply each semester. Workshops for different genres are held once a month and are open to any student at Emerson College.
Positions
Editor-In-Chief* > Managing Editor
Head Editors > Editorial Staff
Head Copyeditor > Copyediting Staff
Head Marketer > Marketing Staff
* positions are also executive board positions
Pub Club Online Staff
Since 2012, the Blog, now Pub Club Online, has been a source of news about the club, the world surrounding professions in the Writing, Literature, and Publishing industries, and an outlet for student voices to be shared. The website is run by the Blog Director, who is aided by the Blog Assistants. While any student can be a guest writer, staff writers have a more strict commitment to the website. There is a Head Marketer position available if the Blog Director chooses to hire for this position.
Positions
Blog Director > Blog Assistant
Head Marketer
Staff Writer > Guest Writer