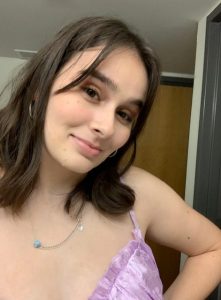 SARA FERGANG | Co-President
Sara Fergang (she/her) is a junior Writing, Literature and Publishing major with a publishing concentration and has a minor in Women's, Gender, and Sexuality Studies. Her previous work within Pub Club includes working on the copyediting team for Always Winter and holding the Secretary position in Fall 2022. Sara is also involved in Stork Literary Magazine as a Prose Editor, YourMagazine as the Head Proofreader, and is an active sister in Alpha Epsilon Phi. She loves reading, crocheting, baking, guessing the Taylor Swift song in two seconds or less, and taking more naps in a day than necessary.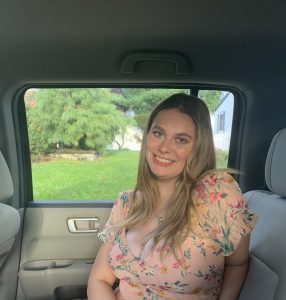 TERESA MORITZ | Co-President
Teresa Moritz (she/her) is a Writing, Literature, and Publishing major with a concentration in publishing and a double minor in Marketing Communications and Public Relations. Previously, she was Pub Club's Event Coordinator and a Wilde Press Proofreader, Copyeditor, and Marketer. She is also the Secretary of Emerson Reads YA. She works freelance as a manuscript reviewer for Blackstone Publishing and is currently a part of the Random House Mentorship for Prospective Copy Editors and Proofreaders. If you cannot reach her, she is probably FaceTiming home to see her dogs, at the dog park in the Boston Common, or reading and watching TikTok when she should be working.
ANNALISA HANSFORD | Vice President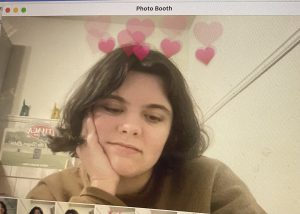 Annalisa Hansford (they/them) is a sophomore Creative Writing major at Emerson College. They are the Head Poetry Editor at The Emerson Review, the Editor-in-Chief of hand picked poetry, and the City Section Editor for Atlas Magazine. Their poetry appears or is forthcoming in The West Review, Emerge Literary Journal, and Eunoia Review. They are probably listening to Gracie Abrams and drinking iced vanilla matcha lattes.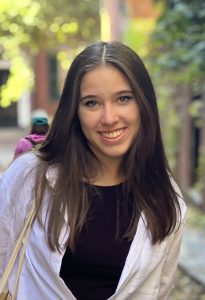 LEANNA FLOREZ | Pub Club Online Director
Leanna Florez (they/them) is a freshman Writing, Literature, and Publishing major with a concentration in Publishing and a minor in Marketing. Previously, they were the Head of Marketing for Pub Club Online as well as Marketing Assistant for Always Winter and Lisoyid. Outside of Undergraduate Students for Publishing, they are a poetry reader for Concrete Literary Magazine, Head of Marketing for SIEVA Magazine, and a Council Member on Emerson's Mystic. They enjoy dance, tarot cards, Marvel comics, and are actively listening to Billie Eilish while writing in the smallest corner of their dorm bed. 
Melina List | Generic Editor-in-Chief
ASHLEY VERRILL  | Secretary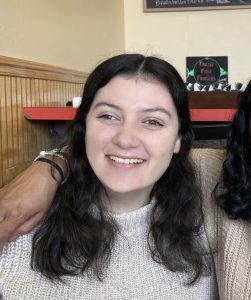 Ashley Verrill (she/her) is a Writing, Literature, and Publishing major with a concentration in Publishing. She is also the Assistant Prose Editor of Concrete Literary Magazine and the Vice President of Anime@Emerson. Her hobbies include reading, napping, and hugging her dog. She finds it important to note that after her first third copyediting class last semester, she woke up crying because she'd dreamed that she was being hunted down by punctuation marks. Anybody who has a clear and concrete understanding of Chicago Manual Style terrify her
.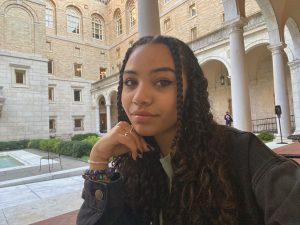 JENNIFER NOVO | DEI Leader
Jennifer Novo (she/her) is a junior Journalism major with a double minor in Literature and Publishing. She is also the Vice President of Developed Images, Treasurer of the National Association of Hispanic Journalists, an Emerson Journalism Peer Mentor, and was the Vice President of Alpha Epsilon Phi's Ribbons Philanthropy last fall. When not attending to her many positions, she loves reading, writing, painting, watching movies, and drinking cold brew all day. 
Lauren Larking | Marketing Director