Karina Jha // Blog Assistant
Hello! My name is Karina Jha and I am the author of Lisoyid, one of the Wilde Press publications for Fall 2022. I wanted to give a little insight into what the process of getting a book published by Wilde Press is like, though since I am still in the process, I can't speak to everything quite yet! Firstly, let's have a quick summary of the story and a little bit about what inspired it.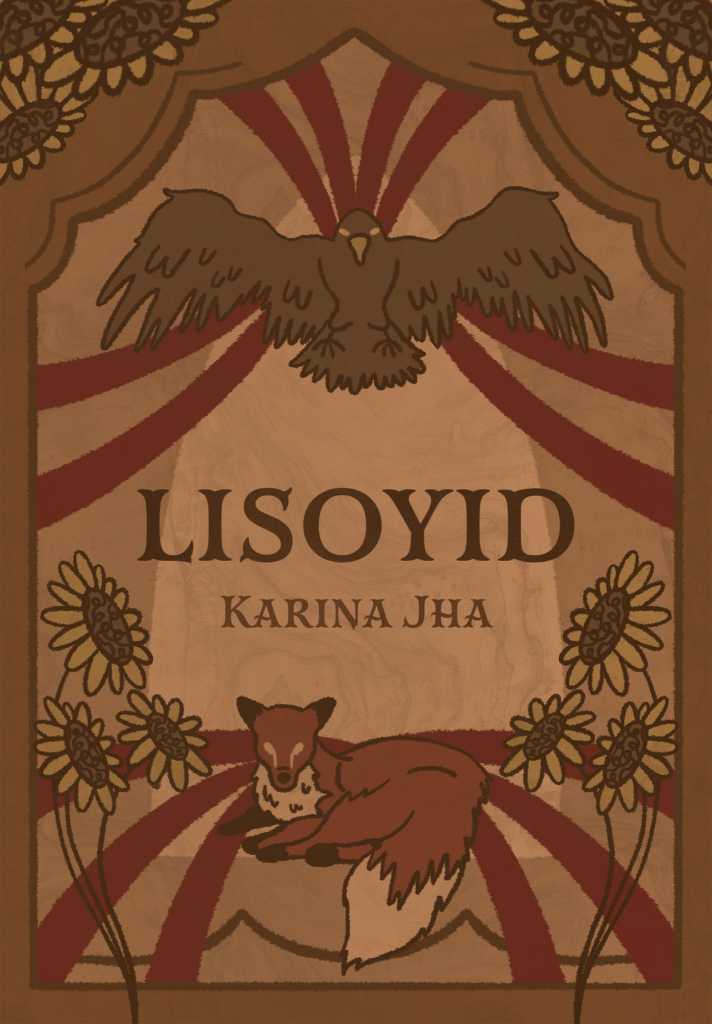 Lisoyid is about two girls, Yeva and Marta, who come from a small village at the foot of the Carpathian Mountains in Ukraine. Fleeing an unwanted engagement, the two of them brave the mountains to start a life of their own on the sea. But before they can get far, tragedy strikes and they are forced to seek help at a mysterious inn whose inhabitants aren't quite what they seem. Being Ukrainian myself, I love to write about my heritage. A lot of the inspiration behind this book came from folktales I grew up with and stories of my grandmother hiking the Carpathian mountains in her late teens. I wanted to write a story where folk-fantasy could meld with reality and create something that lives in the sinister in-between. My writing process was definitely a long one: I started this story during winter break of my freshman year and after months of it sitting in my Google Drive untouched, I finally finished it in a blur this past summer. It is the longest project that I have ever finished (so far!), and I'm really proud of how it came out.
Now to discuss the publication process. The first event that I got to partake in was the Author Panel—a session where Pub Club members could ask me and this semester's other author (the wonderful Maddy Monroe) about our books. It was really touching to have people ask about my characters, my inspiration, and the like; I loved seeing that the details that I had been putting down were getting picked up. At the end of the Author Panel, Maddy and I sat down with our two publishers, Ari Dinh and Charlotte Drummond, to sign a contract. The contract outlined some basic rules about rights to publication and meeting expectations and guidelines during the publishing process. It felt really professional signing a contract, I will say.
Next came the toughest part: the substantive edits. Not long after the Author Panel, I was sent a long letter by the substantive editing team with suggested changes and revisions. There was a lot to parse through, and in the process, the story changed a lot. For example, I cut out an entire character, since he hadn't really been doing much for the story in the original manuscript. The turnaround time was about two weeks for these edits; afterward, I was tasked with composing the front and back matter of my book, consisting of the dedication, the acknowledgments section, the author bio, and the author photo. I dedicated the book to my mother, as she is the one who taught me the most about my Ukrainian heritage; she holds a special place in my heart for all that she's done for me over the years. I'd never written an acknowledgments section before, but I quickly found out that it wasn't as hard as it seemed. I kept the author bio short, but made sure to mention my pets. As for the author photo, I have Caitlin Farrell to thank for a fabulous photoshoot. If you ever need your photos taken, hit her up!
After the front and back matter was submitted, the copyedits for the manuscript came in and I approved or rejected each one individually. After sending those back, it was time for one of the most exciting parts of the whole process: the cover art! After some very impatient waiting, I was sent a folder with about six student-designed covers. I knew immediately which one I wanted as the cover of my book, so thank you to Anya Getschel for the beautiful work! For publicity, I was also asked to sit for an interview on EIV Evening News with Maddy, which I did happily, though I was incredibly nervous. And finally, I was given access to a folder of audiobook voice auditions to pick out my favorites for consideration during the final vote.
That's how the process of having Lisoyid published has gone so far. It's been simultaneously a lot of work and a lot of waiting! If I'm not mistaken, the files have now been sent to the printer so the final copies will be ready for the Book Launch on December 8th. This year, the event will take place in the Lion's Den, so be sure to mark your calendar, and I hope to see you there!
About the Author: Karina Jha is a Ukrainian-Nepalese literary enthusiast from Northampton, Massachusetts currently working towards a BA in Writing, Literature, and Publishing at Emerson College in Boston. She can typically be found with her nose in either a book or a very large mug of tea, curled up with her cat, Imogen, and dog, Mira.