Are you an incoming Emerson graduate student or considering applying to one of Emerson's graduate programs? If so, you are likely thinking about moving to Boston, scrolling through Zillow listings and Facebook roommate groups to find the right place for you. With many of Emerson's graduate students coming from out of the city and state, plus the thousands of other students flocking to the Boston area each year, figuring out where to live can be a challenge. That's why I'm breaking down some of the best neighborhoods for students to live in Boston: Brookline.
Brookline in a Nutshell
Just four miles from downtown Boston, Brookline borders the Allston-Brighton and Jamaica Plain neighborhoods. It's the perfect in-between location for quality housing, good food and activities, and a (relatively) short commute on the MBTA Green Line C train. 
With a lot of families living in the area, Brookline is quieter than many other parts of the city. If you're looking to step away from the noise and bustle of undergraduate life, Brookline is the place for you. A group of three renting in the town can expect to pay around $1-1.5k each per month, which is cheaper than areas closer to campus and about average for Boston overall.
But what makes Brookline, Brookline? Let's dig into some of the qualities and amenities that give this little town its charm.
Green Space Galore
Though we Emerson students are lucky enough to call the Boston Common our campus green, the city as a whole is not known for its greenery-to-person ratio. Brookline is quite the opposite.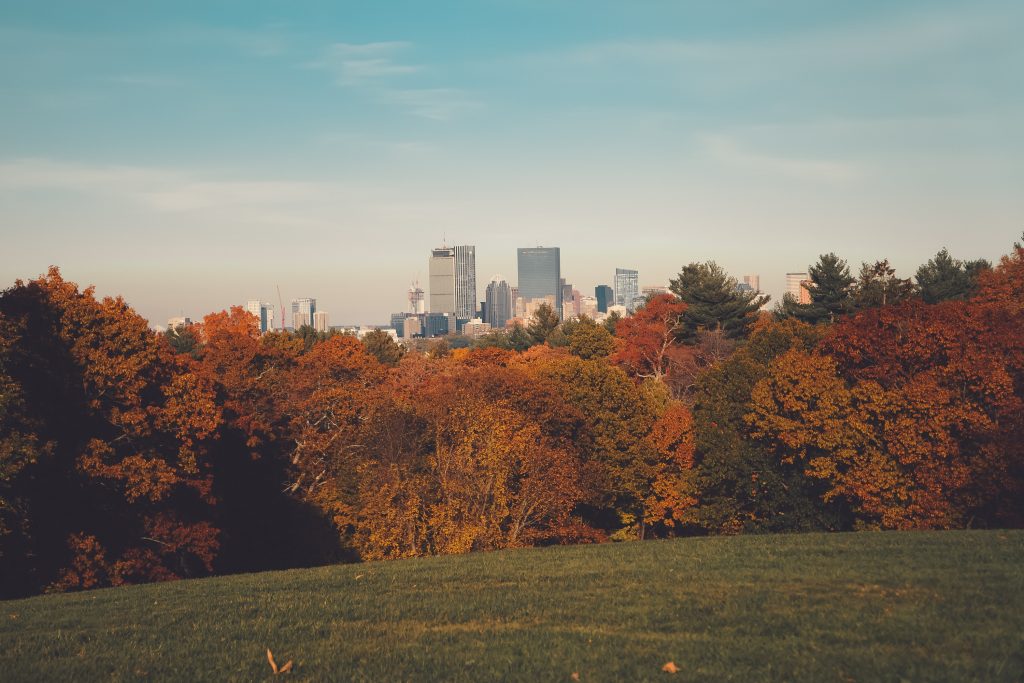 Despite covering only about seven square miles, the town has over a dozen parks, from the hilltop Corey Hill Park, with its beautiful city views and standing hammocks in the warmer months, to the Brookline Reservoir, where you can enjoy a stroll along the water or lounge beneath the trees. Or you can walk the Emerald Necklace footpaths, which will take you through several parts of Brookline and are beautiful in all seasons.
Delicious Eats
Turns out, you don't have to go downtown to get some of the best food in Boston. Brookline, especially its Coolidge Corner neighborhood, has great options for every meal. 
In the mood for a bagel? Look no further than Kupel's Bakery, where you can find all your favorite bagel flavors plus a variety of spreads, all for a grad student-friendly price. If tapas are more your style, head down Beacon St. to visit Barcelona Wine Bar, whose cool vibes and extensive menu make it a great place for a nice dinner. A little bit south in Brookline Village are Mahaniyom and Blossom Bar, which serve Thai small plates and Sichuan dishes, respectively. Plus, both have an impressive and imaginative cocktail menu.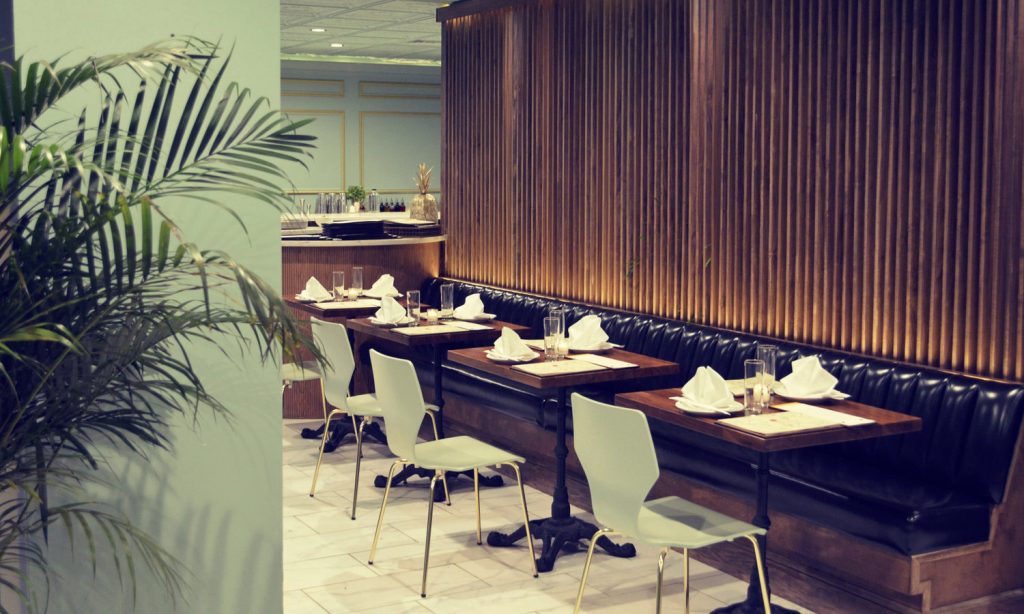 Along with these standout favorites, Brookline is also home to great pizza (Stoked Wood Fired Pizza Co.), incredible baklava (Athan's Bakery), and fantastic hotpot (LaMei). They've even got outposts of popular Boston restaurants and cafes like Tatte, Soup Shack, and J.P. Licks, all located on Harvard Ave. Plus, with a Trader Joe's, Stop and Shop, and Star Market within two miles of each other, not to mention specialty grocers like Japanese store Maruichi and a Whole Foods just across the border in Brighton, there's no shortage of grocery options for the home chefs among us.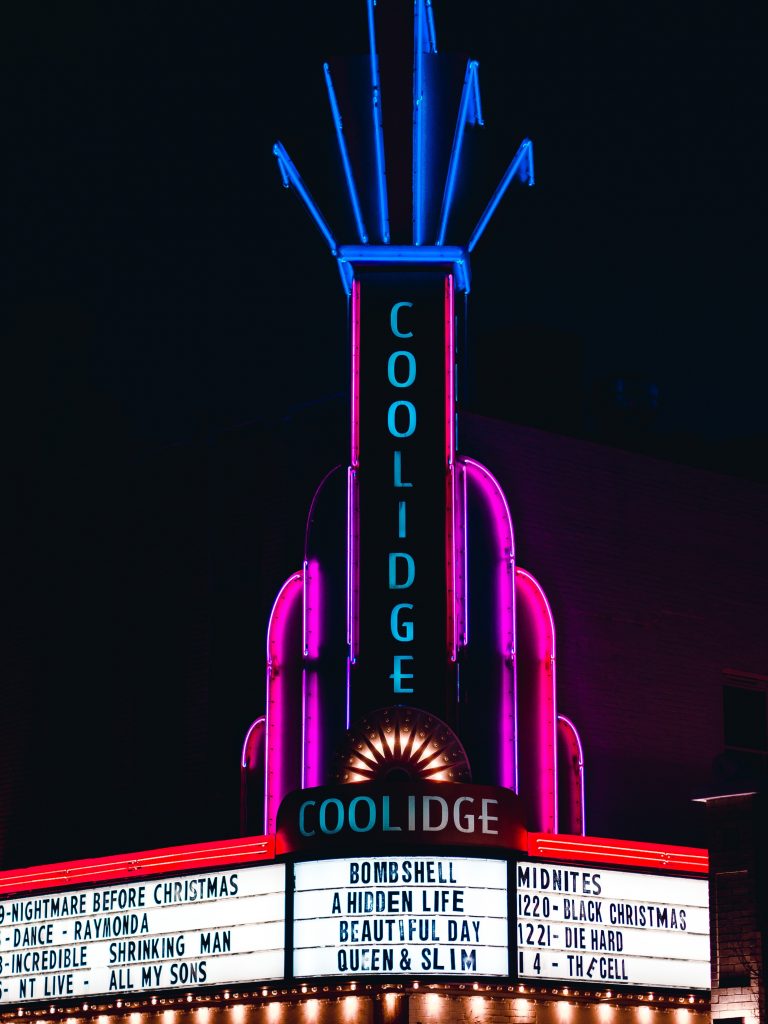 Entertainment
For the Film MFAs and other movie enthusiasts, the Coolidge Corner Theatre is a local, independent movie theater that shows artsy new releases, foreign-language breakthroughs, and seasonal throwbacks (Jennifer's Body for spooky season, anyone?) in a small but cozy setting. This Art Deco theater has been around since 1933 and sometimes hosts other events, like film  classes and speaker events.
Just across the street is the Brookline Booksmith, a community-loved bookstore that spans two floors, with used books in the basement. Apart from being a place where any Writing, Literature, and Publishing student can get lost for hours, the Booksmith hosts author talks and book signings regularly. Past visitors have included rom-com writer Casey McQuiston, actress-turned-author Jennette McCurdy, and speculative fiction's own Ken Liu.
[Photo by
Kentaro Toma
on
Unsplash
]
As you can see, Brookline has what it takes to make it a great neighborhood for grad students, whether you're committed to Emerson or attending one of the other many schools in the area. To learn about more Boston neighborhoods, be sure to check out our Where to Live in Boston blog series. You can also take our online quiz to find which neighborhood is the best fit for you!
Ready to make the move? Be sure to check out our guide to renting in Boston for tips to make your transition to the city as smooth as possible.