As educators, we tend to replicate techniques we are comfortable using while assuming our students are OK with them. But in fact, our learners differ in ways that "they perceive and comprehend information that is presented to them", and learners differ in ways in which they can be engaged or motivated to learn in various learning environments. The UDL principles scaffold and support student variability.
Principle I: Provide Multiple Means of Representation (the "what" of learning)
Principle II: Provide Multiple Means of Action and Expression (the "how" of learning)
Principle III: Provide Multiple Means of Engagement (the "why" of learning)
In Canvas, there are several approaches to empower students' engagements, especially in an online learning environment.
Prerequisite Modules
When determining the students' best interests and their prior knowledge, instructors can create optional modules with pretest or prerequisites materials.  For example, the modules can include quizzes that contain the background knowledge check-in that required for further learning. Once they have passed a certain level, they can move into the next core content modules.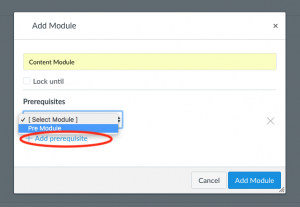 Extension/Optional Modules
On the other hand, some students will benefit from extension/optional modules if they would like challenge themselves, explore more opportunities above beyond what is required. For example, instructors may fill in extension modules with extra credit items, additional course materials, or optional assignments build on students' own interests or objectives.  
Optional Discussion Board
An optional discussion board provides a space in which students may interact with each other and the instructor in a way to allow students to choose a comfortable level of engagement. For example, it may be useful to provide students with discussion boards that focus on questions related to assignments. And this kind of discussion board can be open-ended for questions and ideas for students to raise questions or ideas related to the learning whether in or out of class.
Facilitate Peer Feedback
Students may benefit from the opportunity to give and receive solicited feedback during the writing or project design process. In Canvas, there are at least two ways to enable students to provide one another with quality feedback: (1) group discussions and (2) peer-reviewed assignments. Peer assignment review enables instructors to assign peers (manually or automatic/randomly) to review one another's work before it is submitted for instructor review. This method is excellent for students to consider the rubric explicitly in commenting on one another's work.