"In a Nutshell" condenses frequently requested instructions into practical, bite-sized chunks. Learn a new tool in the time it takes to drink a cup of coffee!
What's the quickest way to send a message to your entire class (and be reasonably sure they see it)? Posting a Canvas announcement! This can be useful for announcing homework, alerting students to optional events, or sending reminders.
When an instructor posts an announcement, Canvas sends a notification with the text of the announcement to all students' Emerson email addresses and/or sends a push or text to their mobile devices, depending on what each student has selected in their notification preferences. This is helpful because, sadly, some students don't check their email. The message will also remain posted in the course's Announcements section for students to view.
To create an announcement, go into your Canvas course, then click Announcements in the left-hand course menu. Once there, click the + Announcement button at the top right: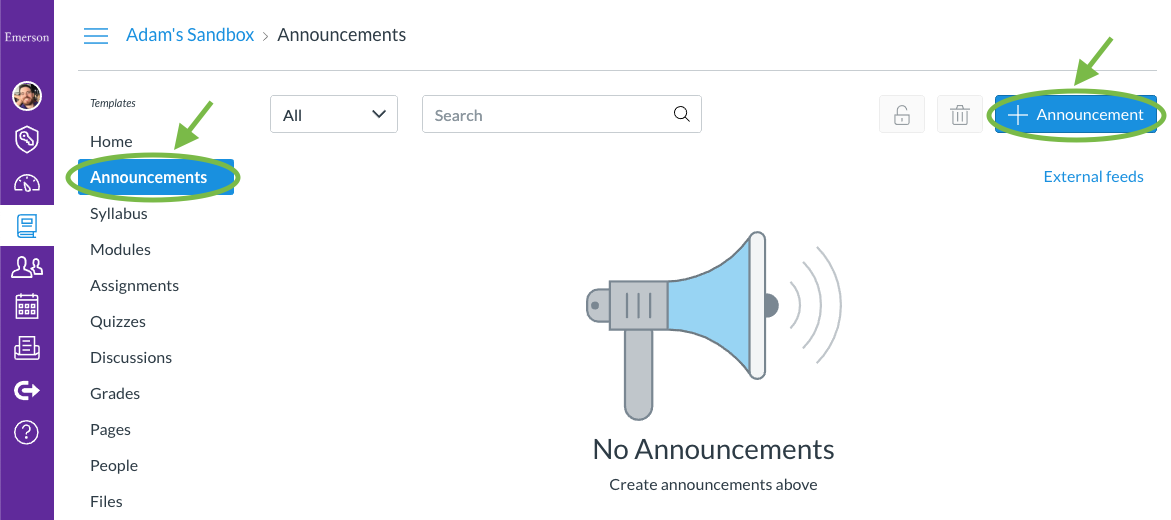 Create your announcement using the same rich-text editor found all over Canvas (it's the same way you create assignments, discussions, and pages):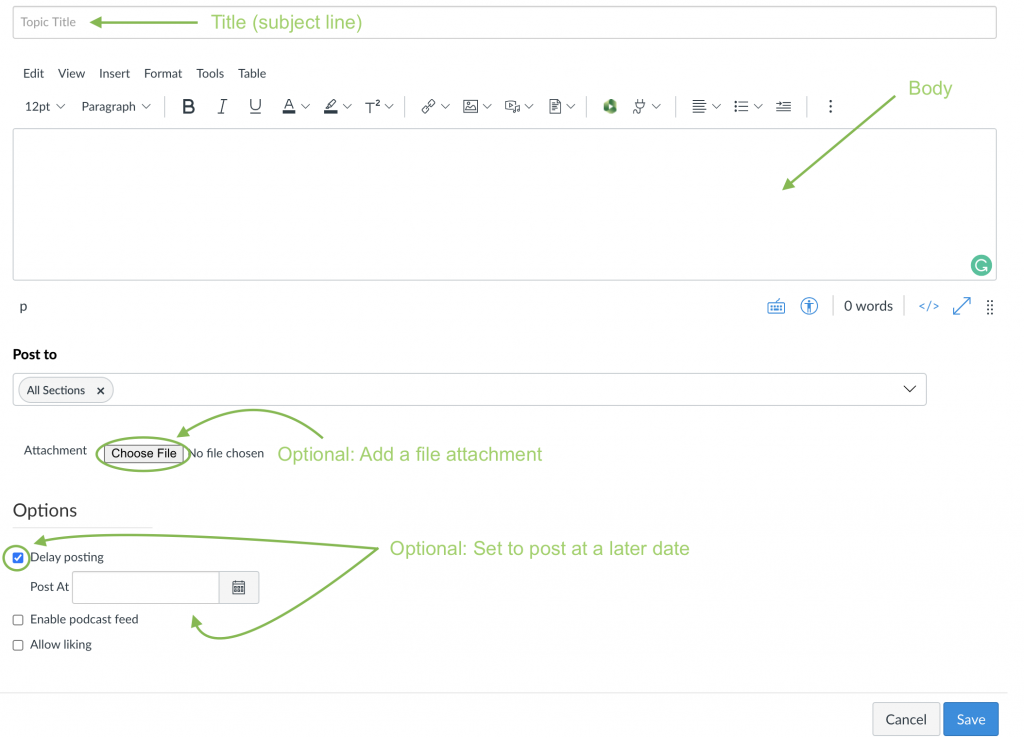 Note that you can attach one file to an announcement. You can also set the announcement to post at a later date: when you check the Delay posting box, the Post At field appears, which allows you to choose a date and time.
When you're ready, click Save at bottom-right. If you have not delayed posting, the announcement will immediately be posted to the Announcements section of Canvas for students to read, and it will also be sent to them via notification.
If you have delayed the announcement's posting, it will save but remain invisible to students. You can continue to edit it until it posts on the designated date. You can also edit an announcement after it posts, but students won't receive another notification.
Some Important Limitations
You cannot designate specific students to receive announcements, though you can designate sections. For private exchanges, use Canvas Conversations.
Students aren't meant to reply to announcements. There is an option to allow students to comment on announcements, but this is off by default; students won't think to look here for discussion. If you're looking for interaction, I recommend creating a Canvas Discussion.
When you import announcements into your course from a previous course, they will appear posted in the new course's Announcements section. However, they will not be sent to students via notification. If you want to send an imported announcement to students, you have two options:

Copy the text from the imported announcement, delete it, and paste the text into a new announcement. When you post the new one, it will be sent to students.
OR, set the imported announcement to post at a later date/time (even if that time is only minutes away). At the designated time, it will be sent to students.

An announcement posted in an unpublished course will not be sent to students via notification, even when the course is later published. If you're creating announcements before publishing your course, I recommend using the "Delay posting" setting to make the post on a date after the course is published.
If you've delayed posting but change your mind and want to send out an announcement sooner, it won't work if you remove the delay; instead, change the delay to a sooner date/time, even if that time is only minutes away.
You can find the full documentation on announcements here:
How do I add an announcement to a course?
And as always, please reach out to ITG@emerson.edu if you run into trouble, or if you'd like to suggest a topic for this series.