You've probably heard that Panopto, Emerson's video-hosting platform, underwent a major update this summer. Now you can simply embed Panopto videos in Canvas, and students will automatically be able to view them! Here's more about what this change means for your teaching.
What you don't need to do any more
In the old days (prior to July 2018), for students to see a video, you'd have to edit its sharing settings and add your whole "class group" to the video before finally embedding it in Canvas. To add to this delightful complexity, you had to add the version of your class labeled "viewers" (students) rather than "creators." The cherry on top: if a student hadn't yet clicked the course menu's Panopto button, the video would STILL be unwatchable. Rather than displaying a helpful error, the video would prompt the student to "request access," sending an email to the confused instructor who couldn't do anything but pass on the request to ITG, who would tell the student to click the button and try again.
Fun, right?
How it works now
Now, there's no longer any need to change sharing settings for videos you're placing in Canvas. Even better, there's no longer any need for students to click the Panopto button before attempting to view videos. I'd say the new steps to show video are as easy as 1-2-3, but they're actually even easier:
Upload

your video to Panopto (or record a new video).

Embed

the video on any Canvas page (or assignment, discussion, etc.—anywhere there's a rich text editor) using the green embed button above the text editor. It looks like a recycling symbol: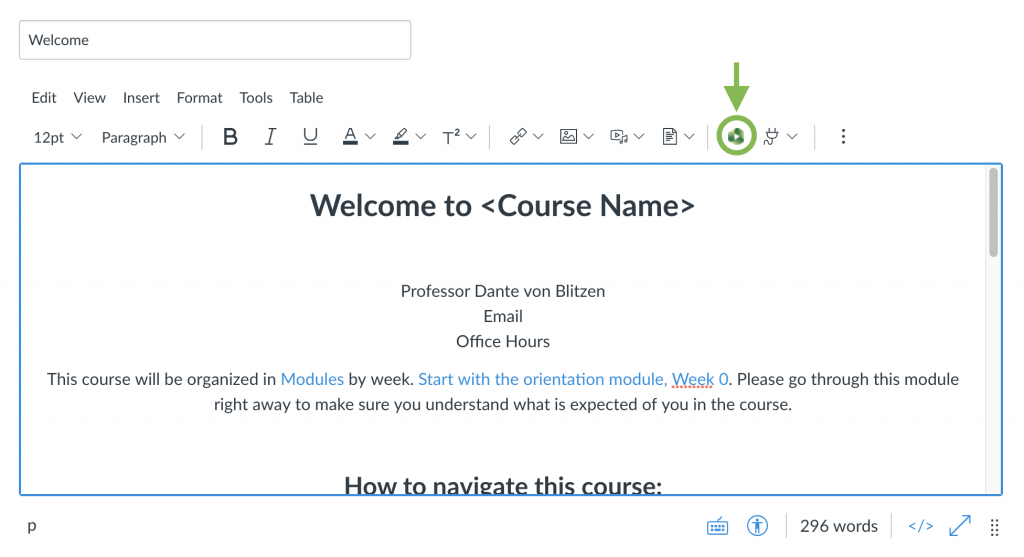 That's it! Any member of your Canvas course will be able to view the embedded video in the place where you embedded it.
This works for students, too. Students can easily embed videos into their discussion posts for the whole class to see. Or, they can embed video in their submissions to assignments that accept "text entry," so you can privately view and grade them in Speedgrader.
Some caveats
You can also make videos visible to students in Canvas by uploading them to the Panopto course folder (the one with your course's name), then directing your students to the Panopto section of Canvas.

We don't recommend this method

: if you ever teach the course in a future term and want to copy your previous content, you'd have to move or re-upload your videos to the new course folder. When you embed videos instead, those embeds are carried over to future copies of the course. No need to redo your work!

The ONLY way to make this work is to use the green button in Canvas' rich text editor to embed your video. Using the embed code found in a video's sharing settings will NOT make the video visible to students, nor will placing a link to the video in Canvas.

If you want to display your video OUTSIDE of Canvas—say, on a WordPress page—you'll still need to change its sharing settings to make it visible. Deep embeds only work in Canvas.
For a detailed guide with screenshots, check out this support page. And as always, ITG is happy to provide Canvas and Panopto training whenever you'd like. If you'd like to start using videos in your teaching and need some help, email ITG@emerson.edu or call us at (617) 824-8090.