ITG is excited to announce our Fall Faculty Development series. We will continue to offer live Zoom workshops to faculty and have developed a new 4-week course on Universal Design for Learning. Read on for more details.
Live Sessions
Most weeks of the semester, we will offer at least one live session. Each session is one hour long with the exception of our video editing workshops which are 90 minutes long. You can view our complete list of dates, along with a link to session descriptions, at teachanywhere.emerson.edu. Of note are several new workshops that we've added to the mix:
Tech Therapy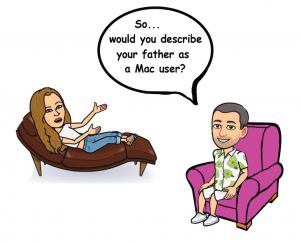 This is a remake of two discussion-based workshops that we offered last year: I Hate Canvas and Let's Talk Zoom. Each session allowed faculty to share their struggles and triumphs related to teaching with Canvas and Zoom during what was a very challenging year, to say the least. Solutions to questions or problems were crowd-sourced among ITG staff and faculty in attendance. We decided to combine these two into one session that includes Canvas and Zoom as well as other ITG-supported tools such as Panopto and WordPress. The Tech Therapy title comes from a joke among ITG staff about how we sometimes feel like therapists when helping faculty overcome their fears and anxieties around technology.
Feel free to join multiple Tech Therapy sessions. Each one will be different based on the questions and issues that arise.
4 New Accessibility Workshops!
Hopefully by now you've read the Access Advocacy Project's letter and list of action items from last spring. We did and it inspired us to take the knowledge we've gained over the years from our work making online courses more accessible and share it with faculty. The tools for improving accessibility have become much more user-friendly, so the timing makes sense. If you join us, we think you will find that many of these practices are fairly easy to incorporate as you build your courses in Canvas and beyond. Here is a brief overview of what we have to offer:
Improving Your Canvas Accessibility Score: You may have noticed that your Canvas course now has an accessibility report and score. This session will walk you through what that score means and how you can improve it.
Creating Accessible Documents: This is a foundational workshop where you'll learn about best practices for digital accessibility that can be used across various word processing platforms.
Creating Accessible Videos: We will help you learn how to recognize, create, and edit captions for your course videos using tools available to the Emerson community.
Improving Your PDF Accessibility: Is your course full of hastily-scanned documents that students can barely read? Are your PDF files lowering your Canvas accessibility score? This is the workshop for you! We'll help you create better PDFs, recognize which PDFs can be improved (and which are hopeless), and add basic accessibility features—like searchable text—that make a world of difference to students.
Check out our Session Descriptions page for a detailed summary of each session. Registration is not required for our live sessions and there are a few ways that you can join. Choose the option that works best for you:
The Teach Anywhere page includes a Google Calendar button for each session. Clicking on that button will allow you to add the event (along with a Zoom link) to your calendar.
You can self-enroll in our ITG Faculty Development course in Canvas. The Zoom tab in the course will include all of the Join links for each session, as well as accompanying modules that include additional resources.
Subscribe to the Academic Affairs Faculty Development calendar. All ITG sessions are included there, along with many other development opportunities available to Emerson faculty. You can reference the calendar as-is or copy specific events that you are interested in to your personal calendar.
Please note that you will need to be logged into your Emerson Zoom account in order to join these events.
Accessible Design Course
Continuing on the theme of accessibility, our instructional design team has developed a 4-week course as well: Accessible Design: UDL for your Emerson Course. This course will cover digital accessibility skills as well as the Universal Design for Learning (UDL) framework in a mostly asynchronous format. Our first session will run from Monday, November 1st until Tuesday, November 30th.
Faculty who participate will work on an already built Canvas course during the 4 weeks and redesign it with UDL guidelines and best practices for accessibility in mind. Upon completion of the course, the ITG design team will then kick start each course with a thorough accessibility tune-up that includes:
remediation of course PDFs
captioning of course video, and
a course review to check for common trouble areas
Since the above requires significant designer time, this opportunity is limited to approximately 12 spots per session and an application is required. But don't worry! We'll be offering the course again in the spring. Ultimately we'd like to have this course offered twice a semester, with the goal of getting 25 courses per semester up to high accessibility standards.
We're continuing to develop new sessions. As always, your feedback and ideas are welcome. Reach out to itg@emerson.edu if you have any questions, concerns, or thoughts to share.